Over 30 years on from her maiden tournament, England's Jan Hughes remains a popular player on the World Women's Snooker Tour.
In 2019 she returned to the circuit at the age of 70 following a seven-year break, claiming the Seniors title at the UK Women's Championship in Leeds. The win saw her become our inaugural Seniors number one ranked player, following the introduction of the new Seniors rankings at the start of the 2019/20 season.
We caught up with her recently to reflect on how the snooker landscape has changed since she first picked up a cue and what inspired her to return to competitive play last year…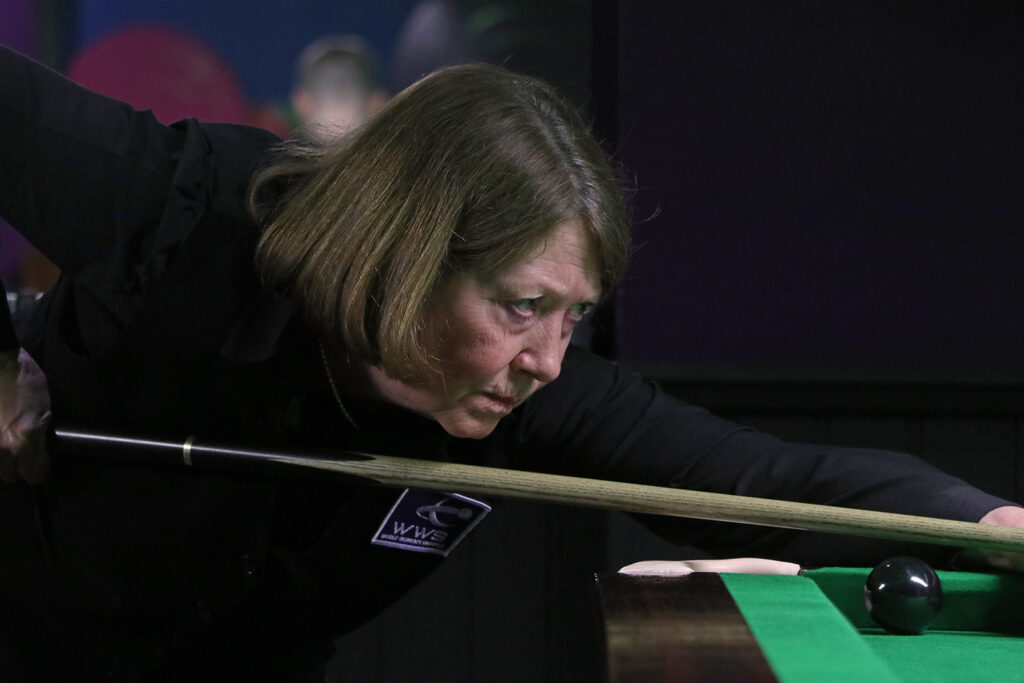 Hi Jan, how has lockdown life been for you so far?
Lockdown life for me so far has been good. I have been shielding at home since 17 March (due to an underlying lung condition) and, although I have really missed being with my family, friends and playing snooker, I have made the most of it.
I have been keeping in touch with family and friends via phone, Zoom, Facebook and FaceTime through which was informed that I will be a great grandmother in November. I have a fairly large garden to maintain, get fresh air, exercise, play and relax in. I remembered that I had some plastic golf balls, so armed with my golf clubs and tees (so as not to divot my lawn) hit balls up and down my garden for a golf weekend, great fun!
I also had some lovely memory flashbacks sorting through the old snooker records and pictures. I have done so many things really, too many to list, but it has been good for me to stay positive.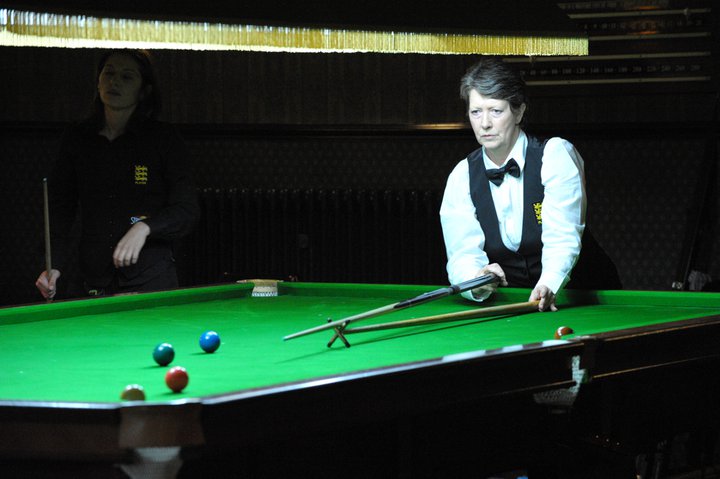 In April 2019 you played your first WWS event in seven years, but of course had played for many years previously. How/when did you first become interested in playing snooker?
I first became interested in snooker when I was 13. I'd started a Saturday job, cleaning bar tables at Duple's Sports and Social Club in Edgware, North West London, where I was born and bred. They had two tables, I'd never seen billiard tables before or heard about snooker! The steward, after my work, showed me briefly a cue that you used to hit the heavy old ivory, dull in colour, balls around the green baize. That was it, I loved everything there was within that table.
A few weeks later I kept my mum company at Edgware Football Club on bingo night.  There were four snooker tables, I was elated. There, my mum's friend offered me a job in the canteen to help out on football match days and bingo evenings. This was a better job for me and as time went on, I was told that I could play on the snooker tables if no men wanted to play, but they were always being used.  A couple of men saw I was interested watching them, so they let me join in with them on a few occasions and explained the game.
I didn't play much and then my life went in different directions. It wasn't until I was married with my two children, Warren and Nicola that I played again at a Pontins holiday in Pakefield many years later. My husband talked the reluctant organisers in to allowing me to play in the men's competition as there wasn't a women's competition. Alan, my husband, won the tournament and I was runner up.  Some of the other competitors were a little grumpy, but we really enjoyed it.
The next time I played was when, split from my husband, the Stevenage Snooker Club opened in 1982, I was 34 and the first female to join the Club on my own without a man. This is really when I first started to play and understand the game.
How different was it back then as a female player wanting to take up snooker on a serious basis? What challenges did you face?
It was very different back then to be a female player wanting to play snooker on a serious basis and there were many challenges where some places would not allow women to play at all. Stevenage Snooker Club was the modern club now. There were still the looks and the occasional comments, but the club was good for me and one of the owners asked me to be on the Committee as being the first female to join. They wanted it as a family club, instead of the old traditional clubs that were in the area.
How did you become aware of Mandy Fisher and WLBSA as it was then?
I was on holiday with my then partner and my children at Pontin's Prestatyn, I'm not sure of the year, but think it was either the 1984 or 1985 Spring Snooker Festival. I was having a game in the snooker room when Gaye Jones approached me and asked me to enter the ladies event, which I did and from playing in the event, was also asked to join the association.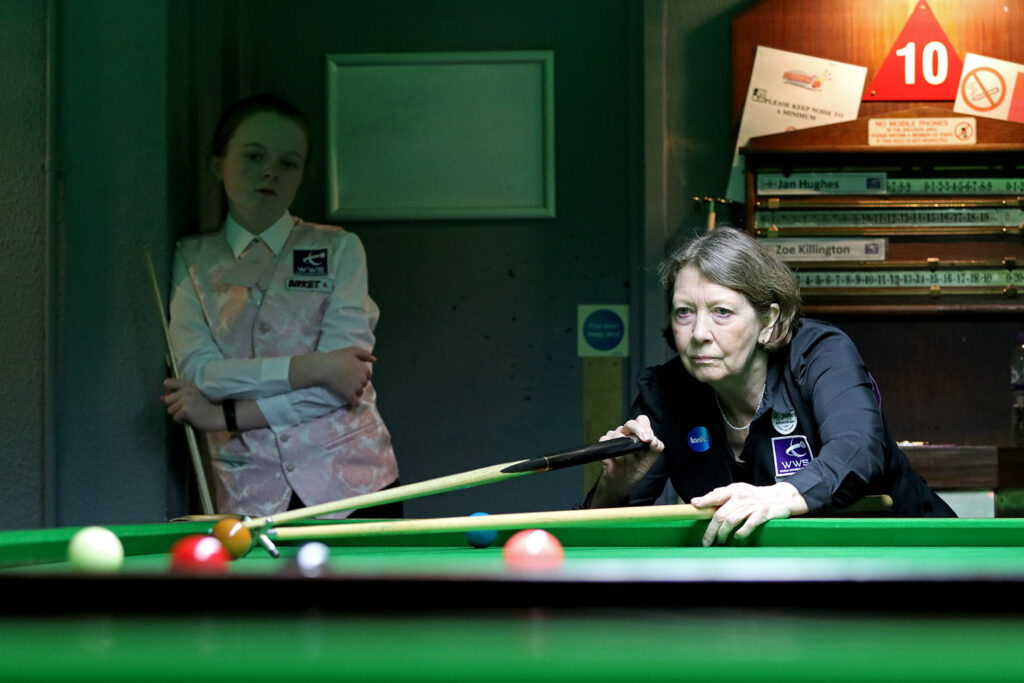 What have been your best or most memorable achievements on the baize down the years?
I achieved my first ranking points at Willie Thorne's Club in Leicester where I won the 1989 UK Championships Plate event. The same year at the Pontin's Spring Festival, in the Last 32, I played Ann-Marie Farren and in the deciding frame I fluked the final black into the middle pocket, but the cue ball rolled gently into the corner pocket. The most memorable thing was the look of horror on Ann-Marie's face as the final black was potted and then the relief that the cue ball went in-off!
I think my best and most memorable achievement came last year. In April 2019 I played my first event in seven years and was runner-up in the Seniors event. Then at my second event after my break, the UK Championships in Leeds, I won the Seniors event, it was the first time ever that it had been made a ranking event and I was the first ever WWS Seniors world No.1. It really meant a lot to me, as reaching the age of 70 at the Christmas before, I didn't even know if I could compete again and would never have dreamed to be world No.1.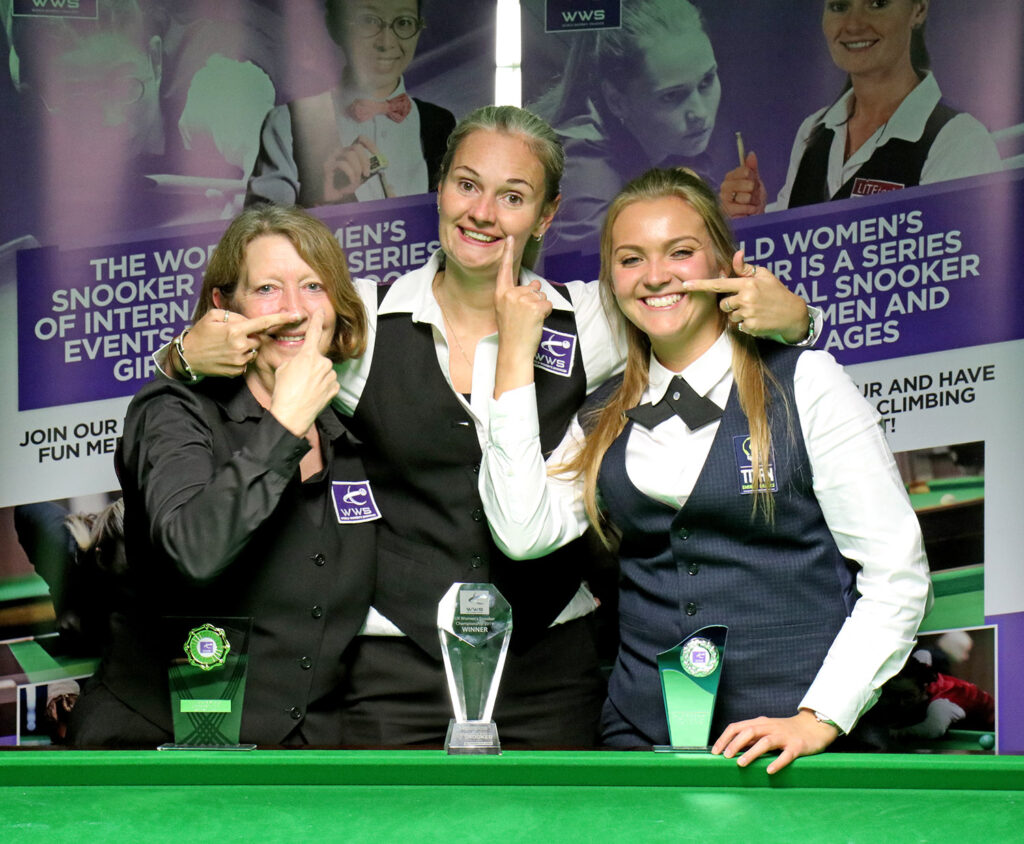 How has women's snooker changed over the years?
I think women's snooker has changed a lot. Mainly with regards to so many more opportunities for girls and women all over the world. Women's confidence has grown throughout the world as well as their independence and competitiveness.  There are more coaching facilities around the country and the world available now to improve all standards.
I feel there is still a long way to go for women's snooker but the more we can encourage young girls to take up the sport, the greater the interest and the higher the standards will be.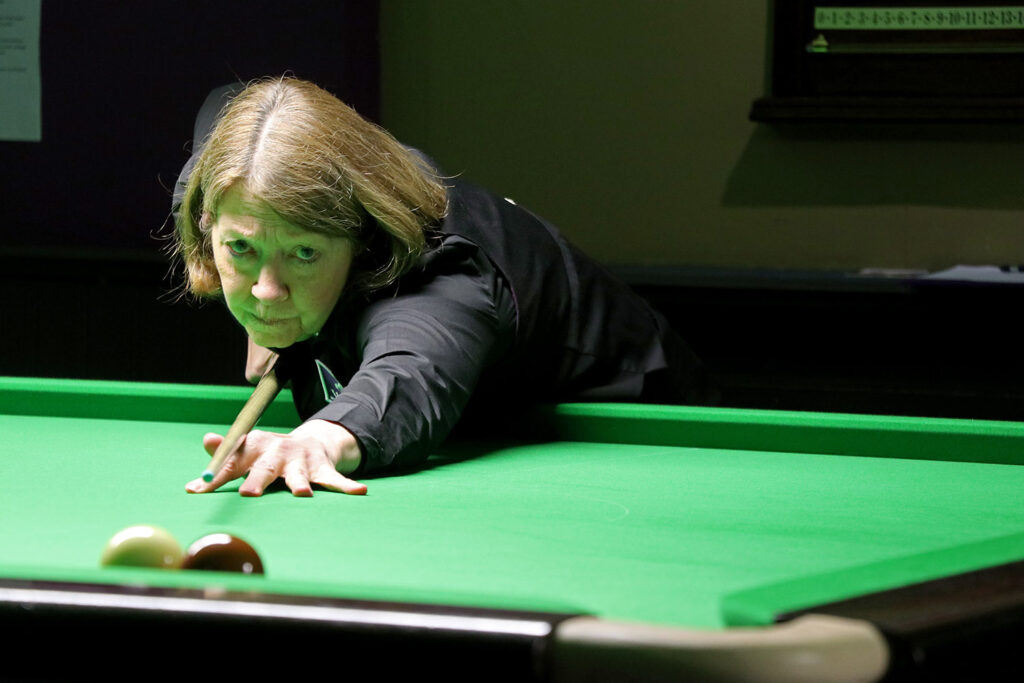 You have seen and played against many of the great women players down the years. Who are the players that most stood out to you and why?
Of the female snooker players over the years that stood out to me, the first I saw play was Mandy Fisher, such professionalism and a beautiful player, I wanted to play just like her.
Allison Fisher, I think was the best of her era, a total all round player who was easily able to compete at all levels.  She went on to America and has had a great career on the pool circuit.
Since Allison, though there have been some great players down the years, the one that stands out for me now and ever since she came on the circuit is Reanne Evans. Reanne is the complete snooker player of top quality. She copes in all situations, under pressure and even under the lights of the TV, she shows her great abilities. Also now as a commentator on tv, has fitted in so well with her knowledge of the game, the players and the fun in which she puts it across. I also know she makes great cakes, coffee and walnut in particular, which I am looking forward to at the next tournament we are both in.
In Coulsdon last year we caught up with a number of players who had previously competed on the circuit. How good would be to see more players pick up a cue who had previously stopped playing?
It would really be great to see women who had played on the circuit previously, pick up their cues and return.  We all had our reasons to stop playing on the circuit, but I found that I also had a reason to start playing back on the circuit and that was, because I felt I missed a family that I had so long been a part of for many years.  There are more opportunities now to encourage those players back. Although serious match play on the table, there is always serious fun off the table.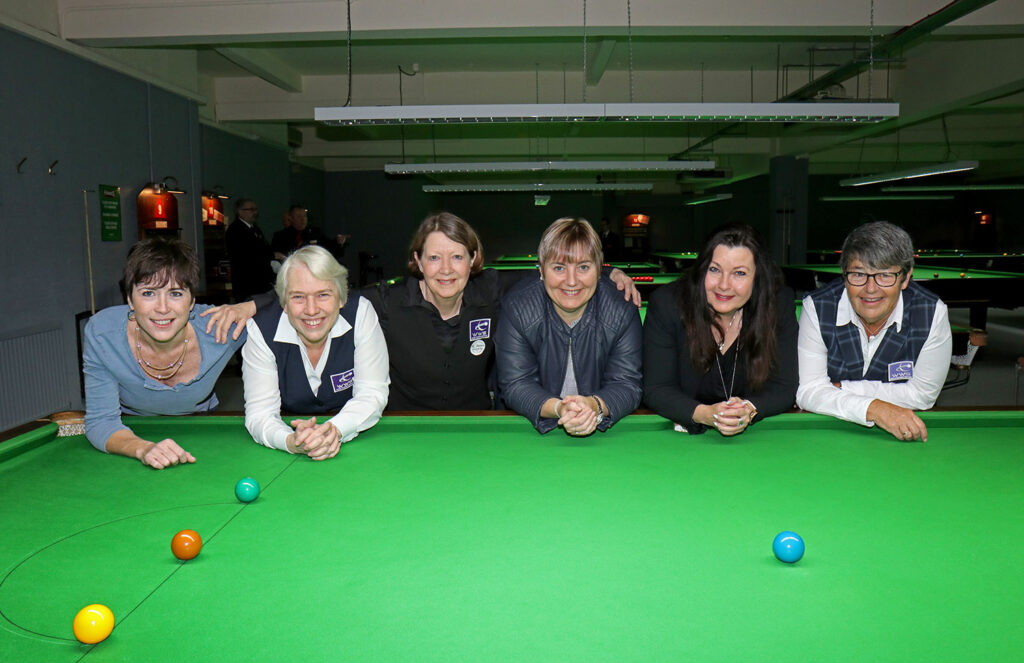 Since you previously competed on the tour the circuit has become more international than ever with events in different countries and players from 29 nationalities currently ranked. How positive is this for the sport?
The circuit has become more international which is so positive for women's snooker, it encourages girls and women from all around the world that they too can play snooker and will help World Women's Snooker grow.
How important is the social aspect of WWS events for you?
The social aspect has been very important to me, as I mentioned before, it is like having another family. They are friends who understand what playing snooker means to us all. We are also there to support each other during tough times, highs and lows on and off the table.
There are also those who support the players, families, friends, the organisers, referees, the sponsors and the fans. I think it probably is very important to all players.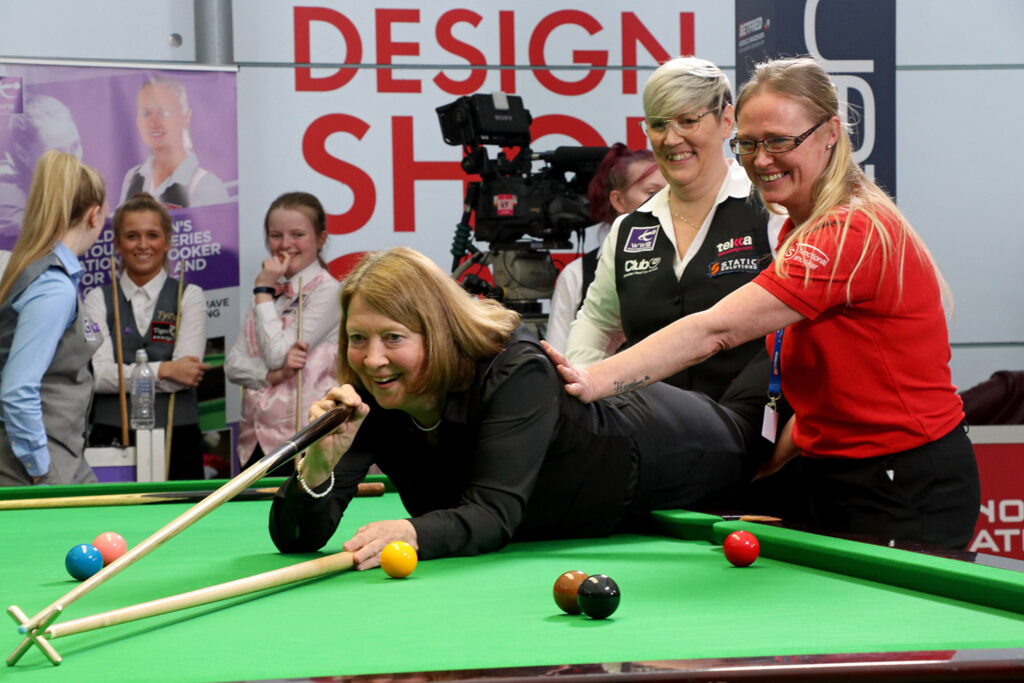 What message would you have for any women and girls who might be thinking of taking up snooker as a hobby?
The message I have for any girl or woman thinking of taking up playing snooker is 'Have a go, there is nothing to lose and everything to gain. It's a great sport with great people, follow your heart.'
We look forward to seeing Jan and the rest of the players back in action during the 2020/21 season.