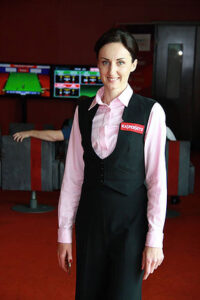 Latvia's Tatjana Vasiljeva lost 4-1 to Marco Fu today in the opening round of the 2016 Kasperksy Riga Masters.
The 32-year-old received a wildcard to the first event of the 2016/17 professional calendar and was handed a tricky draw against this year's Crucible semi-finalist Marco Fu.
The WLBS world number five impressed onlookers however, taking the second frame of the match and only narrowly losing the final two frames, both on the last black.
Vasiljeva though was happy with her performance: "I felt strong and not scared. I missed a pink in the 4th frame, maybe I should have played safe instead or trying to play a double. In the next frame I missed a red and it was a frame ball for me.
"But I liked the way I played. It's an amazing feeling when you are competing with one of the best players in the world and feel competitive. I enjoyed playing Marco, he is a great player with a very good attitude. Not bad for the first time playing in a major event – I definitely want to come back."