Next year World Women's Snooker (WWS) is set to celebrate the 40th anniversary of its formation by Mandy Fisher in 1981, but of course there is an even deeper history of female participation in our sport that helped pave the way for the global tour in place today.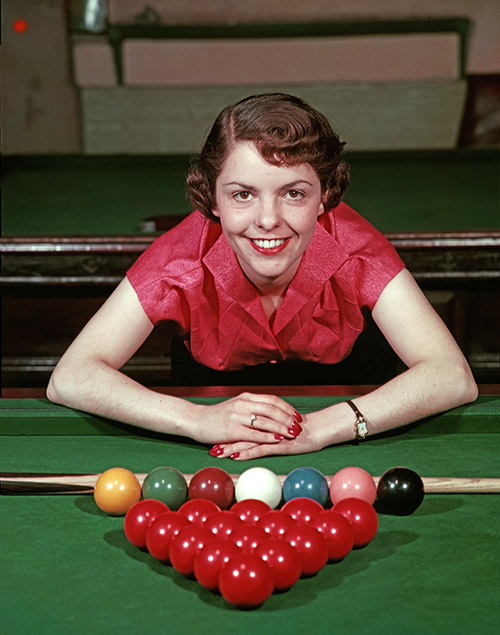 Dating back to its inaugural staging won by Margaret Quinn in 1933, the British Women's Amateur Championship can count the likes of Rosemary Davies, Maureen Barrett, Muriel Hazeldene and of course Vera Selby, winner of our first World Women's Snooker Championship, among its former champions.
Another notable snooker queen was Rita Holmes, who claimed the title four times (1953, 1957, 1958 and 1963) and recently we were lucky enough to catch up with the 86-year-old to learn more about her snooker journey and what it was like to be a women's snooker star in what was a very different era.
"My father had a club in London [the Midland Billiards Club] with seven tables and my interest came from watching the men play from quite a young age," explained Holmes. "I used to go into the club when I was a youngster and I was always quite fascinated by it.
"I didn't start playing properly until I was 19, but my father asked me if I wanted to be serious about the sport and to be coached. Having decided that I did, he arranged for me to be coached by Sydney Lee, who was a professional player at that time. After 11 months he suggested that I should enter the British Championship in 1953 just for experience, but I was able to win it at the first attempt!"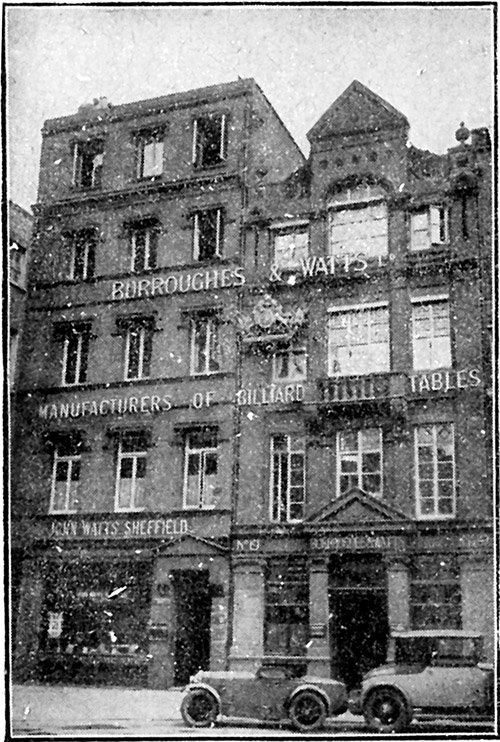 Held at the stunning Burroughes Hall venue in Soho Square, London, the tournament carried significant prestige as the biggest prize to be won prior to the formation of a full women's circuit and the inauguration of the World Women's Championship contested today.
"It was a very special event to be able to compete in," said Holmes. "Everything was played on just one table in the beautiful tournament room at Burroughes & Watts and done in such a lovely way. It was like a cinema with tip up seats all round and tiers at each end – I had a following!"
As Holmes – whose highest break of 74 was not to be underestimated at that time – recalls, while snooker is now very much a mixed gender sport with no barriers to participation in professional and amateur competitions, back in her day it was a different story with women not welcomed in what were 'men only' clubs at the time.
With access to tables at her father's club however, Holmes was not to be deterred and would go on to meet many of the greats of her era – including the great Davis brothers while establishing herself as a formidable player in her own right.
"Back in the 1950s women weren't allowed in men's clubs at all," continued Holmes. "The women that played were wealthy ladies who had their own tables in their own buildings and hotels. It wasn't heard of to go into a man's club but I was lucky because of my father's club. There I became used to playing against the men and my father saw that I had an ability for the game, but we could not play together in competitions.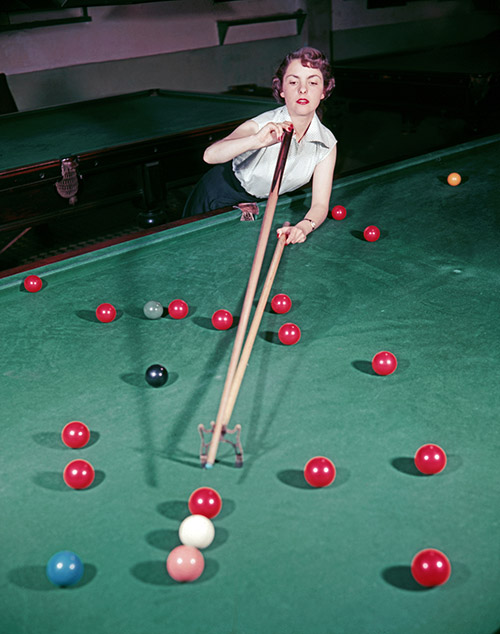 "As my coach Sydney Lee was best friends with Joe and Fred Davis however, I was able to meet them when they would come down to visit while I practised.
"One event that stands out in my mind was when the men had a great ball at the Park Lane Hotel and all the players Jackie Rea, Horace Lindrum, the Davis brothers, all of them were there and I was invited as the only woman player. It was a thrill, they were exciting times and it was very upmarket!"
After a decade which saw her reach the final of the British Championship for ten successive years – winning on four occasions – Holmes took the decision to hang up her cue and focus on her other passions. As well as her snooker career, she also had two dance academies for stage dancing, teaching over 170 students and organising her own musicals every year.
But snooker would always remain a part of her life and some 43 years later having received successful treatment for a persistent back problem, Holmes returned to the baize by entering her first WWS event at the 2006 British Open in Derby. There she would defeat Laura Alves 3-0 to reach the quarter-finals, before losing 4-2 to our current world no.8 Suzie Opacic.
"After my therapist was able to heal my back problems I said that I used to play snooker and wondered if I could play again," continued Holmes. I found my cue after so many years and found that I could play, so I spoke with Mandy Fisher and explained who I was. She knew about me and said that there was a women's circuit and so I went back to play and I held my own quite well for 73, I was doing alright! [laughs]"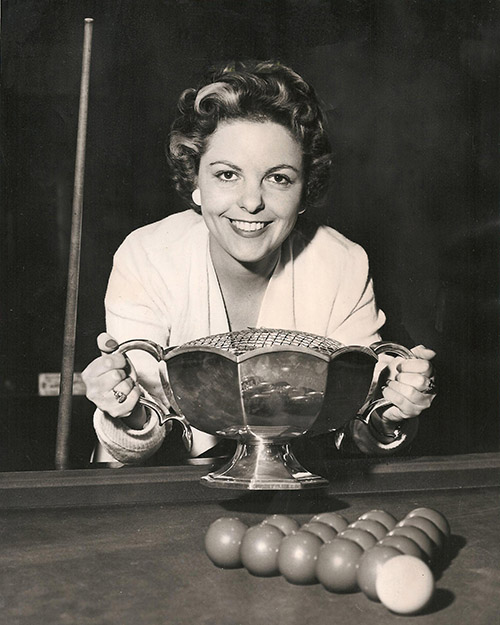 Holmes had planned to enter more events and subsequently entered the 2007 World Championship in Cambridge, but disaster was to strike as she was to suffer a stroke in the run-up to the event that would inevitably have a significant impact upon her ability to play at the tournament.
"I was playing really well," explains Holmes. "I had some tuition from Dominic Dale and I really picked up the cue again and felt that I had a chance of getting through a few matches."
"But then I had a stroke seven days before I went to play. It was the worst thing that could have happened and instead of thinking that I should wait another year, I so wanted to play that I went to Cambridge, but I couldn't play very well because I had lost a lot of my sight. It came back afterwards but at that time it was pretty grim, I couldn't focus properly."
"I was very silly to go back but I so wanted to play. I thought about coming back after that, but I was so disappointed and lost my confidence and for some reason just let it go and didn't pursue it."
Although circumstances would dictate that her comeback would be curtailed, it was at this time that she would strike up a friendship with two-time ranking event winner and snooker historian Dominic Dale, which endures to this day.
"Before I played in 2006 he phoned me because I was on TV ahead of my comeback," said Holmes. "I used to practice in Dunster Castle and Dominic phoned and said he would like to come down and give me some tuition. So, he came down bless his heart, I met him and we went to the Castle which intrigued him as a collector of memorabilia and we've stayed friends ever since. He is such a lovely man and still visits me a lot. As soon as possible he will come down and we will go for a meal and a catch-up."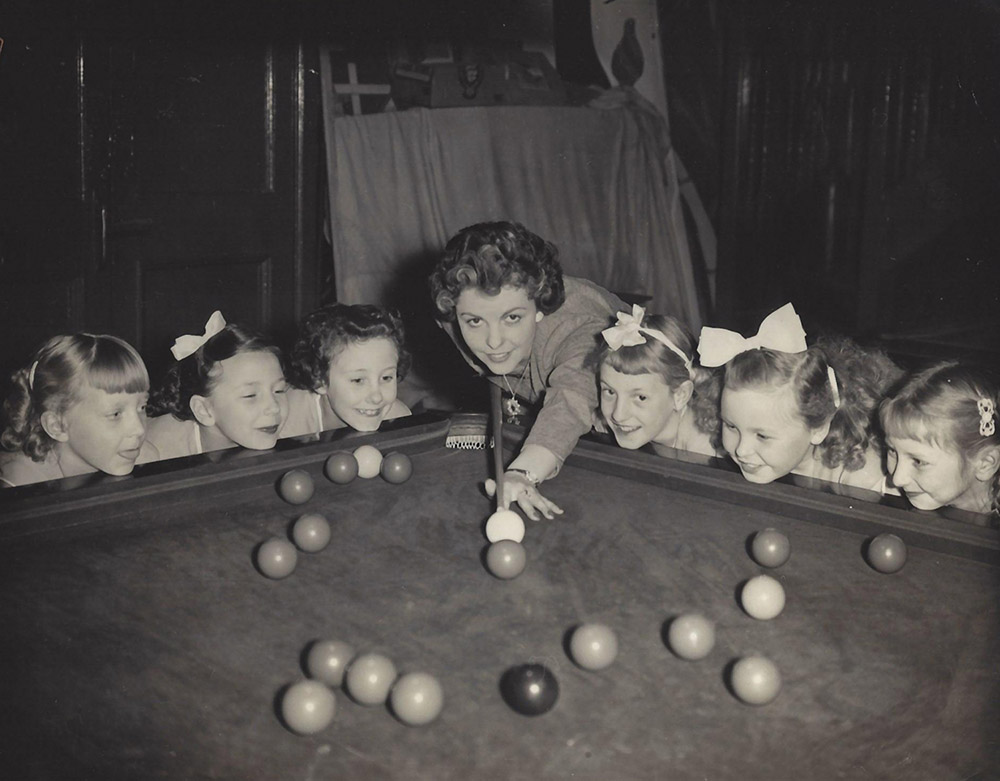 Now approaching her 87th birthday, how does Holmes view the sport which has given her so many memorable moments over such a long period and could she be tempted by another comeback on the World Women's Snooker Tour?
"I never miss it on the television," said Holmes. "I'm still as interested in snooker now as I was when I was 19."
"I used to practice in a social club a few yards away from where I live but at my age you don't do that do you? It would be a bit embarrassing at my age to go along with all the youngsters – but I would long to play again if I had a table to play on.
"Never say never – once you have played you keep in touch with people and it is good!"
World Women's Snooker would like to thank Rita for her time and insight into women's snooker in the 1950s and would love to welcome her to a future tournament – either with her cue or just to meet our current players! We would also like to thank Dominic Dale who has provided the images used in this article.