In our latest Q&A today we catch up with Havant teenager Chloe White, following a successful first full season on the World Women's Snooker Tour which saw her complete the successful defence of her Eden Masters Under-21 title in Gloucester and rise to a career-high ranking of no.26.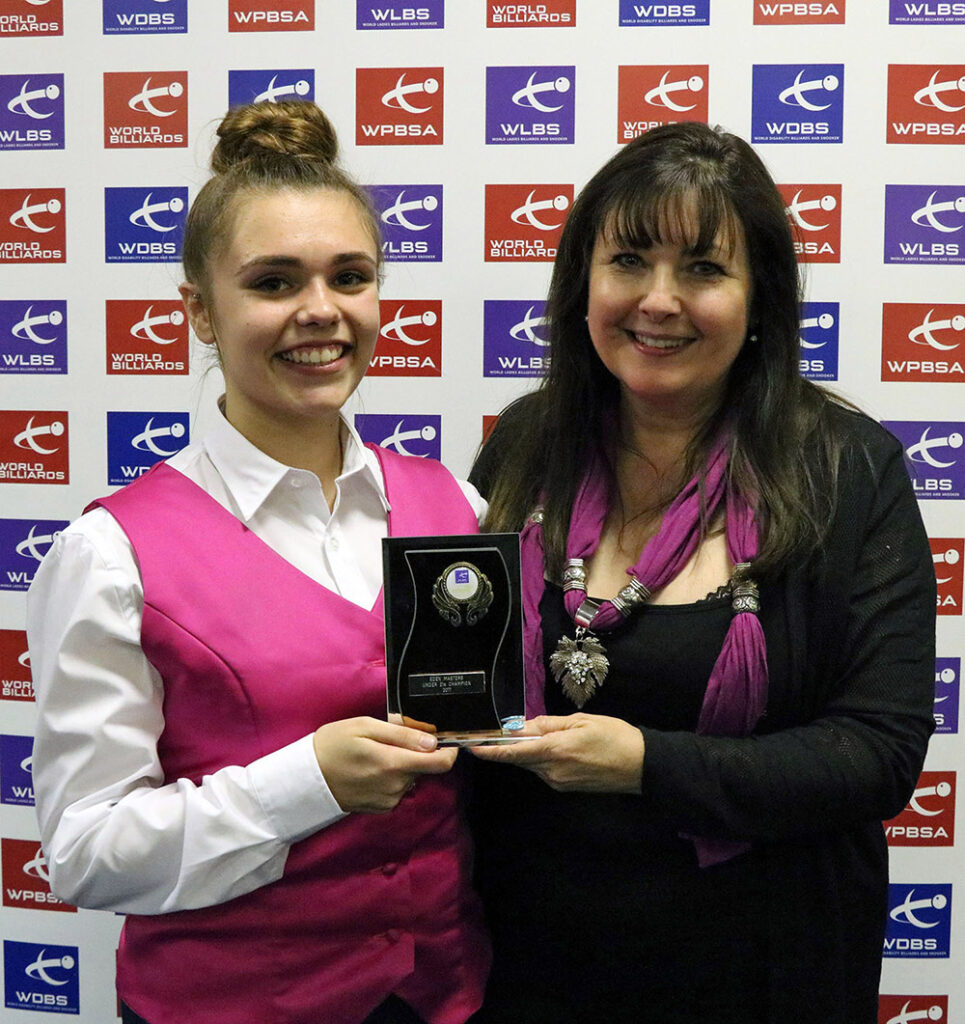 Hi Chloe, you have just completed your first full season on the World Women's Snooker Tour, how do reflect on the year?
I'm pleased to have broken in to the top 30 this season. I went into the WLBS events with no expectations and just wanted to see how far I could get in the tournaments, so I feel as though I have settled in well by managing to win two Eden Masters under-21 tournaments. Hopefully I can progress further next season in the main competitions, as well as in the under-21s.
Are you happy with the improvement in your game over the past 12 months?
Yes, I feel as though my game has become more consistent over the last season due to playing the various players throughout the WLBS tour. Through watching and competing against the better players, such as Reanne Evans and Ng On Yee, it allows me to witness areas in my game that I need to improve on so that I am able to compete with them in the future.
You have also had success in other regional events recently, including the West of England Billiards and Snooker Foundation (WEBSF) Ladies Open and mixed gender Cuestars events. How important is it as a young player to continue gaining experience like this?
Through playing in various regional events such as Cuestars and WEBSF it has allowed me to gain additional experience which I can take into my matches in the WLBS. I feel as if it is important for young players like me to carry on gaining experience from competing in these events as it allows us to potentially compete at a higher level in the future.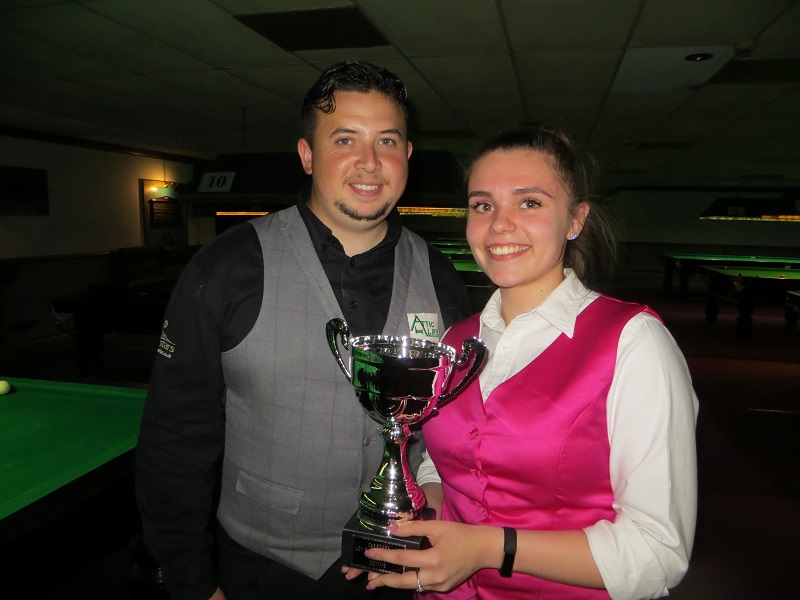 You are also playing and beating men in these competitions. What can you learn from playing against men and do you think it is possible for a woman to be as good as the male players?
Through playing men in competition or even during practice, it allows for different competition alongside the women's game. Through playing a variety of players, it allows my game to improve due to playing many different styles of both men and women.
It is an advantage to have my boyfriend (Mark Lloyd) who plays; practising with him allows me to prepare myself for upcoming tournaments. Women can be as good as men, so hopefully there will be more women who take up snooker in the future.
How did you become interested in snooker and what made you start to play the game seriously?
I became interested in snooker initially through my dad, who took my brother to the local snooker club where they played. I then found out that there was a snooker section where I then began to play in competition against other players. Through my game progressing, I then discovered further events, such as Cuestars and WLBS, and now I'm looking to build on that to see how far I'm able to get within the game.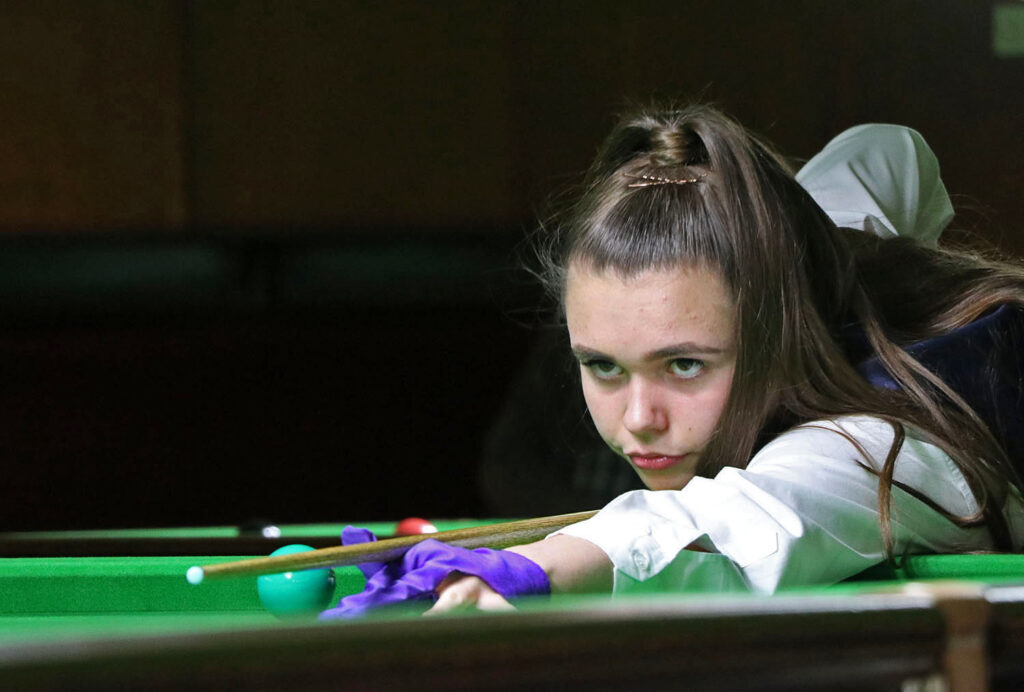 What is the best thing about being a women's snooker player?
The best thing about being a women's player are the different opportunities within the game. As the women's game is developing, it is good to be part of this progression; competing on the tour with the other players.
What snooker ambitions do you have, both for the next 12 months and also longer term?
I have never set myself targets but I'm just hoping to achieve the best I can within the game. It would be nice to progress further in the tournaments in the main competitions as well as possibly achieving a few more under-21s titles while I'm still within this age bracket.
I'm just hoping to progress to the best I can be.
With more and more tournaments taking place outside of the UK, are you excited by the opportunity to travel alongside your snooker career?
I believe it is a great opportunity for us to have the chance to be able to compete outside of the UK. I'm hoping to travel to these tournaments within the future and am seeking sponsorship to allow me the chance to be able to compete in these tournaments.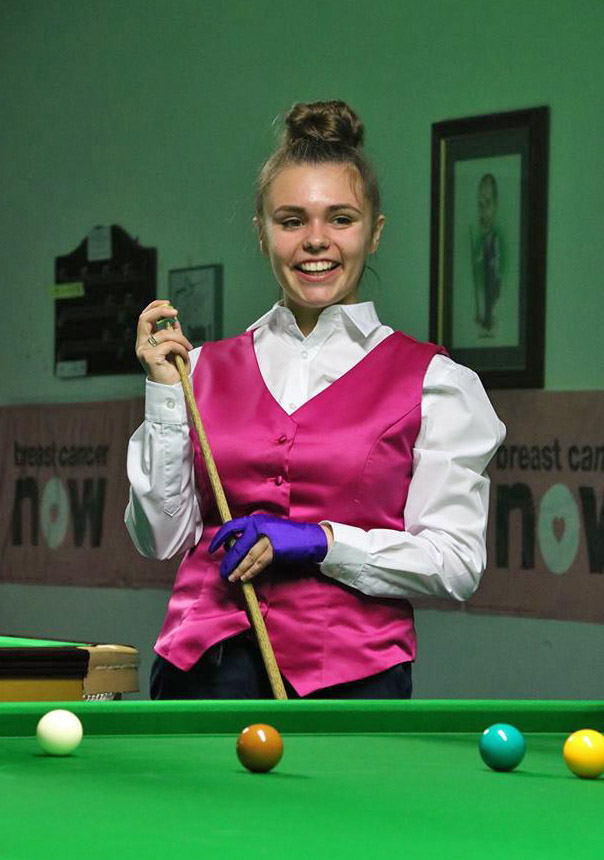 Current world number 7 Suzie Opacic is another player from your region, how much support has she provided to you?
Suzie welcomed me into the WLBS after telling me about the organisation. Suzie made me feel a lot more welcome to the tour as it's always nice to know somebody when competing first time. Suzie is lovely and I am glad to know her off of the tour as well. From that, it has allowed me to meet the other competitors as well as to compete with them.
You are also one of our most stylish players, with your unmistakeable pink waistcoat – do you have any other fashion surprises for us next season?
Well I needed something to make me stand out 😉 The fashion should stay the same but I'm sure there will be some slight changes for you to keep an eye out for!
What you would say to any women players thinking about playing a WLBS event?
There are great opportunities for women to enjoy playing the sport in which they love against other women from across the world. The tour is very welcoming with many great characters that you have the opportunity to compete against.
With the game progressing, it would be great to see more women players coming through to promote the sport further; showing its popularity within the UK as well as abroad. It would be great to see the women's game become more popular (alongside the increase within the professional game) and hopefully more women will be interested in joining this welcoming organisation.
Chloe will be among the players returning to the World Women's Snooker Tour for the start of the 2018/19 season. Three events have already been announced beginning with the UK Women's Championship in September, with the details of up to five further events to be confirmed.
If you would be interested in sponsoring Chloe please contact us for more information.
Photo of Chloe and Billy Castle from Cuestars.